Making the World Beautiful Together
Turnkey B2B Medical Tourism Solutions
Medical Tourism has been around for some years now, and the industry has been developing and evolving at a rapid pace. Tourismo has seen that there has been substantial growth in the demand by consumers to seek cosmetic treatments abroad, but there is a lack of cosmetic medical tourism agencies that provide an end-to-end service. 
The Cosmetic Medical Tourism industry is set to grow exponentially in the coming years. The hair transplant niche alone is set to grow by 25% year on year, with projected market size of $24B a year by 2023. 
This is where Tourismo shines. We provide a complete B2B turnkey business solution for entrepreneurs to set up their own online Cosmetic Medical Tourism Agency.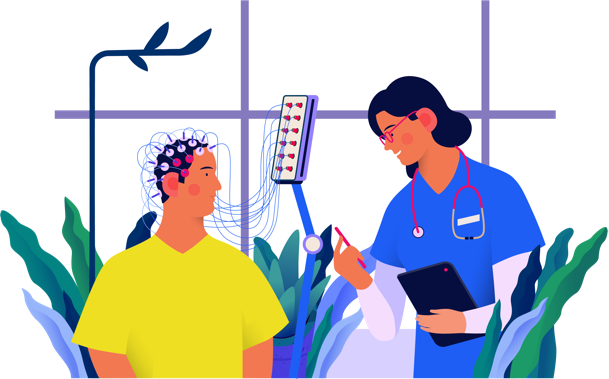 Our vision is to provide entrepreneurs the opportunity to enter one of the most exciting niche markets that is highly lucrative and growing rapidly. As part of this vision, we aim to be a true value add partner, to help our clients meet and exceed the expectations of their customers.
We have created a complete solution that will give you all the technology, tools, service providers and networks to run and promote your agency.

A powerful, call center
oriented CRM

Travel packages and
concierge services

Access to top accredited clinics, hospitals and doctors

Website design and development

Marketing materials
and assistance


In our modern world, having the right technology is vital for business success. The Tourismo solution covers everything you need.
It all starts with Tourismo's robust CRM, built specifically for medium to large call center operations to seamlessly manage your entire operation from one interface. Special attention is given to your sales and marketing teams, to ensure that each and every potential customer is given world-class service. Together with designing and building your agency's website, integrating your payment processing, VOIP, and marketing tools –Tourismo gives a full technical solution for your new agency setup.
Of course, these are just some of the tried, trusted and proven technologies that are included, plus our technology experts and partners are available to tailor and customize to your preferences.
Whatever you need, Tourismo is here for you, to help you succeed!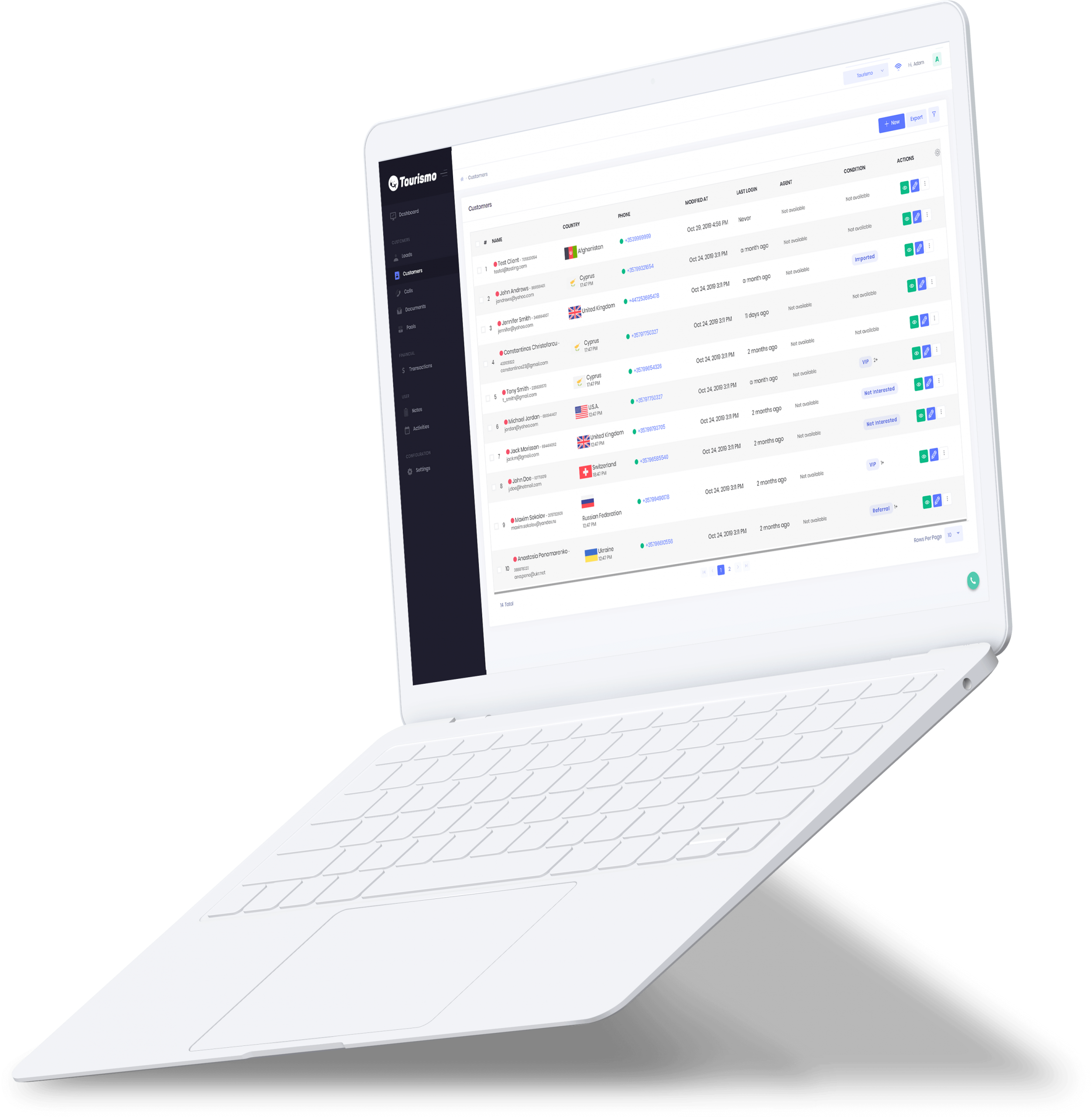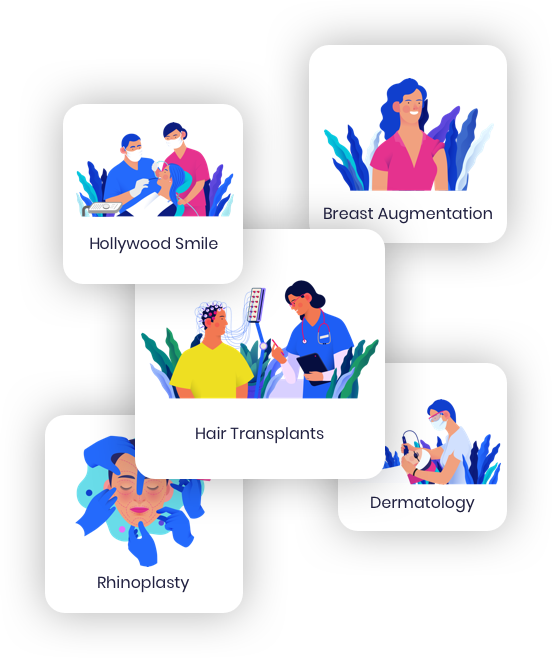 At Tourismo, we have worked diligently to find the best medical professionals and clinics across the globe that will provide treatments to your clients. We only work with the most reliable and reputable clinics, plus we have negotiated great deals for you, so you can rest assured your referred clients are getting great service and value for money.
Services available include:
Administration & Logistics
Once again, Tourismo has got you covered. We work closely with a range of selected hotels in each location, so you can sell with confidence knowing that your clients will have an exceptional travel experience. But there is more, because in order to ensure your clients are able to travel to and from their hotel to the clinics and airports, their transfers, shuttle and taxis need to be arranged, and for this, once again, we have a network in each location that you will be able to tap into.
In addition, when it comes to meeting with doctors and getting around with ease, your clients may need translation and interpretation services, for which Tourismo also has an established network with professional and relevant resources.
And how can one sell a premium package without the real VIP customized offering? From local sim cards and limousines, to sightseeing and culinary tours – everything your clients desire – we will make sure that you are not just selling a treatment – you are providing an experience.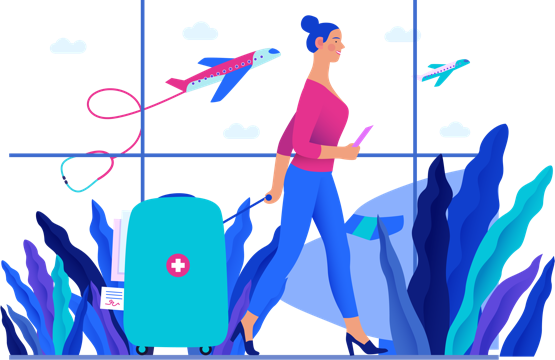 Ready to Build a Beautiful Business?
Let's Grow Together

Customer Success
We want you to succeed, because as the saying goes: "Your success, is our success". Literally. To help you achieve success you will gain access to our Customer Success Management team that comprises top-notch industry professionals, each in his own field of expertise, that will be by your side every step of the way and ensures your operation is at its best.

Sales Training
It goes without saying that beyond the technology and infrastructure, you will need to generate sales, and this is where our sales experts shine. They work closely with your team and call center staff to train them on how to sell, what to sell and how to upsell. From polishing sales scripts to adding maximum value, your sales team will be closing more deals, more often.

Technical Support
With technology being at the heart of your Cosmetic Tourism business, our team of tech gurus and network of professional partners will not only setup your new systems but will train your team and be available to assist with all technical related issues. Our aim always remains to ensure you can focus on running your business and less on the technical matters.

Network
Our turnkey solutions are backed by our commitment to helping you in every area of the business. As a partner of Tourismo, you will gain access to our professional network, to enhance your new business. From payments to legal and accounting, HR, marketing, third-party service providers and beyond. Whatever your needs are, our professional team is always on standby to assist.
Contact us now and let's set up a time to chat
Complete the form and one of our expert team members will contact you shortly